5 Restaurant Menu Secrets You Might Not Know About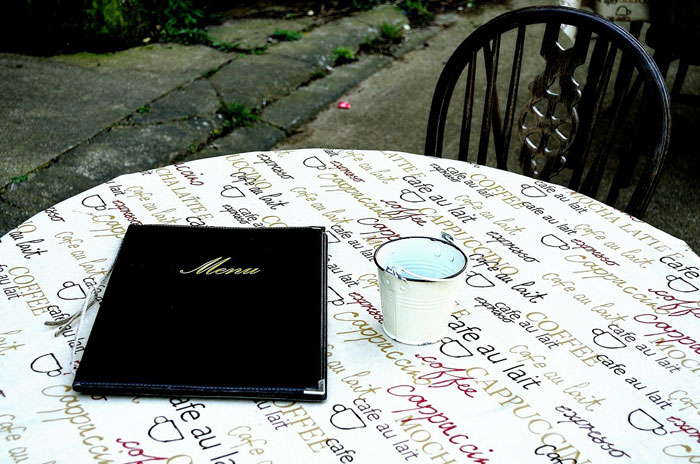 Not every restaurant owner can afford a menu engineer or consultant, but no one wants a menu looking like a random list of dishes. Here are a few secrets larger restaurants have in their menu designs to influence what customers are having for dinner and to gain greater profits.
1. Limited Options
The more options you have in your menu, the more confusing your customer may feel. It's usually good to have about 7 options per food category (seven appetizers, seven entrees, and so on...). Moreover, large menus take longer to order from and require more inventory items.
2. Highlighting Food
Adding a high-quality, mouthwatering picture for a food item can increase its sales by 30 percent. Using a fancy font, bold, a different color (like stimulating red, or drawing-attention yellow) or a box with space around can also change the perception of a customer to make a dish stand out and look far more special than the other dishes. These strategies are often used to make people notice and draw sales to high margin items or upsells like appetizers, desserts, specialty drinks...
3. Special Language
Descriptive menu labels have a potential to increase sales by more than 25 percent. Different descriptions can be used: geographic ("Southwest Chicken Salad"), family ("Grandma's Hearty Chicken Soup"), brand ("Tabasco Quesadillas") or sensory ("Creamy Shrimp Alfredo Pasta"). All of these are a great tool for communicating with your customers and helping increase perception of quality of your food.
4. Pricing Tricks
Using a dollar sign in a menu reminds customers that they are spending money, so many restaurants try to avoid it. Prices ending in .99, such as $9.99 show value, but not quality. So it's better to have something like $9.95 or $9.00, or even omit the cents at all not to trigger the "pain of paying":
Stuffed Chicken Marsala....................9
Shrimp Scampi..................................10
5. Menu Layout
Diners first look at the upper right corner of a menu, and at the bottom left last. The most profitable items, or specials, are often placed in that top spot.A really expensive item (the "anchor") can be placed at the top of the menu, so that other dishes look more reasonably priced. Your server never expects you to actually order that $60 scallops, but it sure makes the $40 steak look a pretty good deal, yet still expensive. Diners tend to order neither the most nor least expensive items, drifting toward the middle.
Hope these secrets will help you understand menu design better!
And here is a handy reminder for you to save or to pin for later.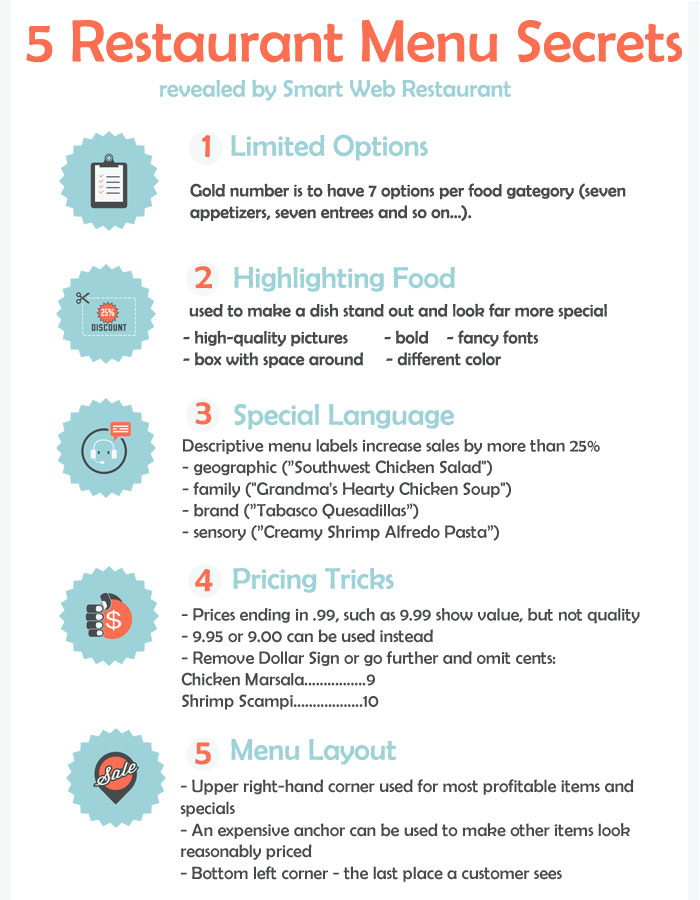 Disclaimer: Nothing in this article should be considered as legal advice.  The information provided is based on the best information available to Smart Web Squad team, but we neither guarantee the completeness nor the accuracy of the information.

Need a website for your restaurant? Try Smart Web Restaurant. It's a premier website solution for restaurant with everything you need to thrive on the web and give your online customers the level of service they expect. For more information, contact us at info@smartwebsquad.com.

Check out: Tips on How to Take Good Pictures of your Restaurant's Menu Items and Keeping your Restaurant Up To Date with Food Trends in 2017 - 2018.