Our Restaurant Website
Templates
We have a number of impressive, professional-looking designs for you to choose. These responsive templates look good on any device: phone, tablet, laptop or desktop. They will help you show off your restaurant business and impress customers with mouth-watering dishes. Click on the images to see what your restaurant website could look like.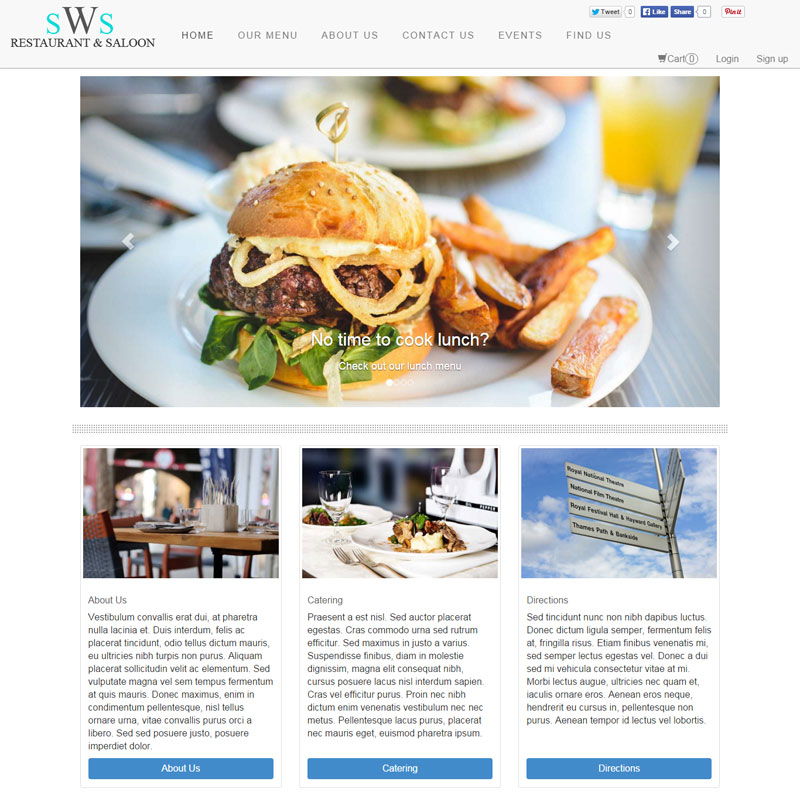 Each template has all the necessary features to drive more customers to your restaurant.
1
Ability to personalize design to fit your company's look and feel. With Smart Web Restaurant, no design looks the same.
2
Logo and navigation stay on top of page, always visible and easy to navigate.
3
Large Image or Slider Area on home page to showcase your mouthwatering menu items and make your website visitors hungry for more.
4
Quick links to most important sections of your website, where you can promote your services, announce events or show off new menu items.
5
Attractive design for your menu, a central piece of any restaurant business, with images and clear pricing to convince people to dine with you.
6
A separate area/page for your promotions, specials and events. A great possibility of direct online marketing for your business.
7
A contact page/area with all your information and contact form to reach you directly. No need for potential customers to hunt for your basic information.
8
Location information, map and directions, working hours and closed-on days. Many restaurant websites fail to meet even this basic need.
9
A special area for your social media links, to allow your potential and regular customers to reach you on Facebook, Twitter , Google, Pinterest or Instagram.